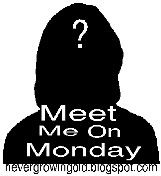 Today, I'm linking up again with

Java

over at Never Growing Old for the fun "Meet me on Monday" party. It has been awhile since I linked up. Since I have Monday off this week, I'm going to take advantage of it and stay up a little later than normal and play! If you have never participated in this fun party before, it's really easy.
All you have to do is copy the five "get to know you questions" and paste them into your own Monday post. Once you have completed that, hop on over to Never Growing Old and link up your post (not your blog). This is a great way to get to learn a little more about the bloggy friends that you follow on a regular basis and it is also a great way to meet new friends. Now to get on with the fun, here are the questions for today along with my answers:
1. What is your favorite sandwich?
My favorite sandwich is actually a Steak, Cheese and Mushroom Grinder from Village Pizza in Newport, New Hampshire. Unfortunately, I don't get these very often ; but everytime I visit New Hampshire, I absolutely must have one of these before I leave. Doesn't it look delicious? Mmmmm.....I can smell the garlic from here!
2. What is stashed under your bed/mattress?
I have a box of wrapping paper under bed and also random pairs of shoes that get shoved under there as I take my shoes off every day. In the interest of getting this blog post actually posted before bed, I will refrain from posting a photo of this mess under my bed. The other pictures that I'm posting are already on my computer.
3. What is your favorite flower?
I love all sorts of flowers; but these are my current favorites which are in bloom right now. I love them so much that I had to take some photos of them when I was at the library recently. The colors are just so beautiful!
4. What is your favorite magazine?
I am a magazine nut. Love them! My current favorite magazine, I think, is
Health
.