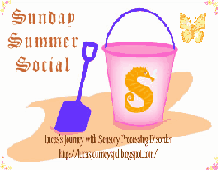 Today I am linking up for the first Sunday Summer Social over at Lucas' Journey with Sensory Processing Disorder.
This is the first one ever so I'm linking up to show some love to my new bloggy friend and maybe make some new friends. If you haven't been over to visit this great blog, take a few minutes and check it out.....and while you are there, link up to make some new friends. I'm going to hop over there now.
Have a great Sunday everyone!