I truly didn't think this day was going to get here. What a week we've had around here! This Friday comes with mixed feelings for me. On one hand, I'm happy because it's the end of a long stressful week. On the other hand, my son's visit is drawing to a close and I've enjoyed my time with him so much. It is going to be hard to see him leave. He's got a lot to look forward to this year and I know that the holidays are right around the corner and I will see him at least at Christmas, if not before; but needless to say....I'm going to miss him. He's such a blessing to me!
Me, my Son, my Grandmother and my Mom - July 2010
So, as I was saying.....It's Friday! And Friday means that it's time to party with my new friend, Java, over at
Never Growing Old
.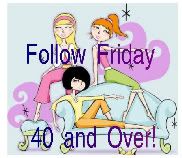 I have done a few blog hops since I have seriously started blogging and this one is one of my favorites. I love finding new friends in my age group! This is a great way to do that. If you aren't participating in this blog hop, then I invite you to give it a try. You will be glad you did! I'm headed over there now. I hope you will join me.