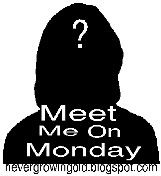 This is my first time to link up for the Meet Me on Monday party hosted by Java over at
Never Growing Old
. I've linked up with the

Follow Friday -40 and Over

a couple of times and can honestly say that Java hosts the greatest parties. I haven't been able to attend those recently but hope that I can get back into the swing of things soon. This great Meet Me On Monday party is a great way to get to know your bloggy friends and to make new ones. The rules seem really simple. All you have to do is answer some simple questions about yourself. If you would like to participate, hop on over to
Never Growing Old
and link up.
Questions:
1. What do your normally eat for breakfast?
Normally I eat this every morning....Whole Wheat Toast with Blue Diamond Creamy Almond Butter or Smucker's Natural Creamy Peanut Butter. On the weekends when I have more time, we make the breakfast tacos that I posted about last week.
2. What kind of car do you drive?
We have a Toyota Camry and a BMW 325i. I drive whichever one is out there when I leave in the morning. We trade off.
3. Have you ever met a famous person(s)?
Yes, I have met a couple of famous people over the years. I got to meet Delbert McClinton several years ago in New Orleans. I got his autograph and a kiss. My husband hates that story so shhhhhh! :0)
4. What is your favorite ice cream flavor?
I love all ice cream except for the kind with bananas in it. I don't like that....and I actually would rather not have fruity ice cream of any kind....unless it's ice cream with cherries.....or sherbert and then only orange or lime. If I have to choose...it's either Starbucks Java Chip or it's almost anything from Ben and Jerry's. I have a hard time making a decision about ice cream as you can tell. ha!
5. Which TV Channel do you watch the most?
If I am in control of the remote, then it's Food Network or HGTV.....but I'm rarely in control. :0)