California isn't the only state with big trees. They aren't sequoias but they are impressive nonetheless. These are the Bradford Pines in the beautiful state of New Hampshire. During the Revolution, these trees were just saplings and now look at them....
David is 6' 2" so you get an idea of how massive these trees are!
I'm linking up with my friend, JAVA, over at NEVER GROWING OLD for her fun Follow Friday party. If you are joining me from over there, welcome!! I'm so happy you decided to stop by. If you haven't ever participated in this fun party, click the button below to link up and play along. It's a great way to make new friends and find wonderful new blogs to read.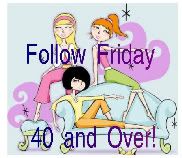 I'm headed over there now. Won't you join me??
Have a wonderful weekend, my friend!