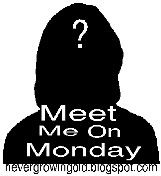 Good Morning!
This is the view out of my window this morning....
It's the perfect day to pour another cup of something hot and participate in the

Meet Me on Monday

party hosted by Java over at Never Growing Old. She hosts this party every Monday and it's a fun way to get to know your "blogger friends" better and to meet new friends. This is the first time that I have gotten to participate in a long time so I'm excited to finally have a few minutes to link up.
Every Sunday, Java posts five get to know you questions on her blog. The rules are to copy the questions and answer them in a Monday blog post. If you participate, be sure and include the Meet Me on Monday button shown above in your blog post and/or otherwise link back to Java. Once you've gotten your post created and published, hop on over to Java's place and link up. Be sure that when you link up, you link up the address to your actual Meet Me on Monday post and not just to your blog. Won't you join me?
What is your favorite kind of cheese?
I haven't met too many cheeses that I do not like. This one, by far, is the best that I have ever eaten. I had this for the first time when my stepdaughter and her husband were married. I've searched far and wide in Louisiana and Texas for this cheese and have not been able to find any to buy in a store. She found it here locally in a store so that reminds me.......
I might need to hit the market a little later.
What size is your bed?
Our bed - first night in its new home.
Our bed is Queen sized. Large enough to have our own space when it's hot and small enough to find the other for snuggles when it's not. This photo was a quick snapshot on the first day in our new home. It was the last thing we loaded and the first thing that I set up in the new apartment. You need a place to relax when you are tired from moving. Amen? I am glad you can't see all boxes piled up across the room or view the other parts of the apartment.
What is your most overused phrase?
This has been a hard one to come up with for me. What do I overuse? I'm sure there are more than one. I asked David who has not been any help in that area so far. I would have to say that the phrase most often muttered by me would be, "Aaaw man!". After much thought and reflection, I really should improve my vocabulary.
Green or purple grapes?
Although it is hard to find the grapes of my childhood.....large, green grapes that popped when you bit into them full of sweet grape juice. They are my absolute favorite. Now the green grapes either don't pop when you bite into them or they are sour and not very sweet.
Shower, morning or night?
I always shower in the morning....no matter what.
It is part of my wake-up routine.
Occasionally, I will take one at night before bed;
but, I always take another one when I get up.
The snow has just about stopped falling now so I think I'm going to walk down to the meat market in a few minutes and see what looks good. I haven't been in there yet and it has been catching my eye down the street. It is in the opposite direction than I normally travel so today seems like a good day for the adventure. My in-laws gave us the rest of a bag of potatoes left over from Thanksgiving. My father-in-law is allergic to potatoes so the bag was bought especially for that meal.
(I'm sure David's mom wanted to have mashed potatoes on the menu since David loves them so much!)
I'm thinking Potato Soup for tonight. What do ya think?
Time to link up with Java and get busy. Wherever you are and whatever you are doing today, I pray you will be blessed.
Thanks so much for stopping by to see me,