I was beginning to think that this day would never get here. It's not like I had anything special to look forward to for today. It's "just Friday", right? This week has been such a crazy one for me that Friday seemed to be a lifetime away....and here it is....Friday afternoon.

Well, let me tell you that it's nothing like I thought it would be. I had grand visions of rising early and paying bills and going shopping for some new work clothes and getting my nails done and finding time for a bang trim and sending some promised photos out to someone and cleaning house and blogging like crazy. Let's see .....of the gazillion things that I wanted/needed to do today, I've managed to get the laundry done and the bills paid and a whole host of other things that have only wasted my time. ~sigh~

Does that ever happen to you? Are my expections just too unreal or am I just failing miserably at using my time wisely? I really think it is a little of both. I honestly didn't think that I would get all of that done today....truly I didn't....but it would have been nice to have gotten more accomplished that paying bills and doing laundry, right? So I guess I will try to recover from another day of unrealistic expectations by forgiving myself....posting to my blog and making my husband a fabulous dinner. He's getting spaghetti....and he will be soooo happy!

Today is Friday-Follow Blog Hop.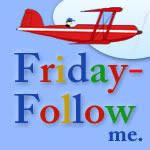 This is my first time to participate so forgive me if I'm a little clumsy. I should be "hopping" away like a pro evenutally. While you are forgiving me, hop on over and visit the first three hostesses listed and thank them for their hospitality today!