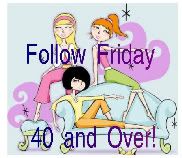 Last week I linked up for Follow Friday - 40 and Over for the first time and had so much fun. What a great way to make new friends! There are so many wonderful blogs out there written by gifted men and women. I know I must be following a gazillion of them already. I like this party because it is geared toward my own age group. If you are 40 and older and not participating, you really should give it a try. It's a great way to find new blogs to follow, find new followers for your blog and to meet some really nice people.
FOLLOW FRIDAY IS HOSTED by

Java

from
Never Growing Old
. If you haven't met Java yet, you are in for a treat. What a sweet lady she is! You need to hop over there and say hello. You'll be glad you did.
The rules are very simple to follow....
Add your link to the list
Visit as many other blogs as you can....
I always like to say hello to the hostesses and thank them for hosting the party first!
Follow any and all of the blogs that you like. When you do this, please be sure and leave a comment on the blog to let them know that you are following and where you are following from and DON'T FORGET to leave your blog address so that they can return the visit. Sometimes I get followers that I can't visit because I can't find their "home" on their Google profile page.
Each week there is a new list. It doesn't carry over week to week so you will want to link up each week to find new friends.

I'm on my way over there now to the party and I hope you will join me.
Have a great weekend and enjoy making some new friends today! Candace~♥