T
hanks to my hot water heater going out and not being able to get a shower, I have some time on my hands at home today. I'm sorry but I just can't bring myself to take a cold shower and I absolutely can't go out of the house without a shower.
S
ince I'm home waiting on the repairman to get here, I get to participate in one of my favorite parties. It has been a long time since I've gotten to link up with my friend,
JAVA
, over at
NEVER GROWING OLD
for her wonderful......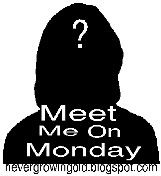 1. What is your favorite pasta dish?
My pesto pasta from last time that we had it!
Pasta is yummy but it doesn't always agree with me. I feel better when I choose something light and healthy. My favorite is Pesto Pasta. I take cooked rotini pasta, fresh pesto, baby spinach and freshly grated Parmesan cheese and mix that all together. I usually serve this with David's famous grilled chicken breast. To mine, I add grape tomato halves and a few sun dried tomatoes because that's how I like it. I can eat it hot or cold. No tomatoes for David please and he always eats his hot. That looks so good that I think it's time that I make it again!
2. What is the last thing you do before going to bed?
After kissing my husband, telling him goodnight and praying that our sleep will be sweet
(Proverbs 3:24)
, I always start out snuggling David's back. I'm sorry that I don't have one of my photos to share in this one. ha! That would be way too creepy, I think. The lady in the photo above is on the wrong side though. We have particular sides that we must sleep on each night. Funny creatures, we are!
3. How many nights a week do you go out to eat?
Normally, we eat out maybe once a week. David usually will grill up some chicken breasts or a pork loin on the weekends and then we eat that most of the week in various ways... in salads or pasta or rolled up in a tortilla. We are big on rolling things up in tortillas around here.
If we don't have anything cooked, I will stop by the store and grab one of these babies.....
4. Are you an avid book reader?
Once upon a time, I was an avid book reader. I lived at the library. So many books, so little time.... and then I discovered blogs. Now there are so many blogs, so little time....and I occasionally like to write something up on my own blog so that takes time too. Right now, I'm reading a very interesting book...
5. Would you rather have x-ray vision or bionic hearing?
I would rather have x-ray vision than bionic hearing. I currently have impairment in each area; however, I think to have clearer vision would more of an advantage than the bionic hearing. There are some things that just do not need to be heard, amen?
Thanks for taking time to visit me today and sticking with me through this post. I'm headed over now to link up at
NEVER GROWING OLD.
Won't you join me there?